About Debbie
Debbie Duncan is the author of an award-winning picture book, an eBook set in the 60s, and a book for parents about children's books and reading. She has written essays for local and national newspapers (see: The New York Times), magazines and books, and reviews children's books for the Palo Alto Weekly. She is a regular contributor to the Perspectives series of commentaries on San Francisco NPR station KQED, and is a co-author of three children's musicals. Debbie graduated with honors in Humanities and American Studies from Stanford University. She and her family live on the Stanford campus, where she can be found cheering her Stanford Cardinal (football, women's basketball/tennis/soccer/softball), enjoying a lecture or concert, or walking the campus paths with her little Daisy. Life is good on the Farm.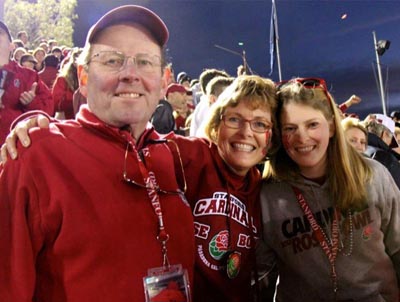 More About Debbie Duncan as a Writer
I moved a lot as a kid—attended three elementary schools and two junior highs in California, then high school across the country, in Connecticut. I also went to two California colleges, but that was by choice, not because my father got another job or the school district drew new boundaries when Orange County was booming … before it was the O.C.
New kids in town know painfully well what it's like to feel lost and like a complete loser—in other words, like most teenagers! (Especially main characters in novels.) So my perpetual out-of-it-ness has served me well in writing.
I have an excellent memory for feelings, of despair in looking out on a sea of unfamiliar San Fernando Valley junior high school student faces and not having anyone to eat lunch with, or two years later being unable to find my math classroom in a 3.5-story (it was on a hill) brick high school in Greenwich, Connecticut. Which staircase does this California girl use? What floor again is that classroom on? How long until I graduate and can go back home?
I also remember the victories of adolescence, along with the defeats and embarrassments. I was one of those kids who found my niche in student government. So does my main character in Caller Number Nine. I also had a knack for giving good speeches. But I never changed my clothes backstage, as Laura does. And like Laura, I won a trip for two to Hawaii with the D.J. of my choice and had my 15 minutes of fame.
It took me 40 years to turn that incident into a novel. The real story didn't have nearly enough conflict or tension. I started writing about it while still in my teens. The editors of Seventeen considered my handwritten essay, "One, Two, Three, I'll Take Caller Number Four," for six months until finally getting back to me a second time to say that because the piece was nonfiction about a 13-year-old and not an older teen, they had decided not to use it. The interest they initially expressed told me that it was a story worth developing. Later I studied fiction writing at Stanford. The late great Chicano novelist Arturo Islas taught me the importance of writing about family, and how to revise.
I've been doing that for more than 25 years. I had a weekly column, "Family Track," in the (now, alas, defunct) Peninsula Times Tribune. I wrote about my family's experience in the 1989 Loma Prieta earthquake for L.A. Parent magazine. When my youngest daughter nearly died of malnutrition from undiagnosed celiac disease, I wrote a My Turn column for NEWSWEEK, "What's Wrong with Our Baby?" I turned her sisters' experience into my first picture book, When Molly Was in the Hospital: A book for brothers and sisters of hospitalized children. I have written and recorded Perspectives for KQED radio since 1997. What an honor it is to contribute to National Public Radio!
Since 1992 I've hosted a monthly children's writers group at my home. Members have won a National Book Award, Newbery Honors and a Caldecott medal. They helped me learn how to write a novel. Caller Number Nine was my first middle-grade. My next, Below the Highway, takes place during the week of the Cuban Missile Crisis. In the fall of 2014 I took an awesome National Novel Writing Month class at Stanford taught by Chris Baty, founder of NaNoWriMo, and learned how to write quickly. That November I completed the first draft of Sunday Night Earthquake, set in the near future when the Big One hits S.F. during a Sunday Night Baseball game, forcing 12-year-old Maddie to make her way home overnight through a devastated landscape with a trio of unlikely human and canine companions.
Danger! Mystery! Racial tension! Giants vs. Dodgers! Sunday Night Earthquake has all that, plus a kick-ass main character. It is now out to agents for consideration.