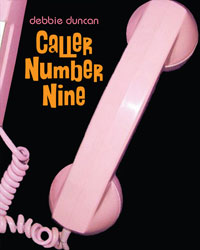 It's the spring of 1967, and 13-year-old Laura has one goal: to get beyond busy signals and play the Jet Set contest on radio station KHJ. What she doesn't count on is winning. And then she does. One Monday morning before school Laura wins a trip for two to Hawaii with L.A.'s coolest D.J. and host of the Saturday night teen dance show on TV. Instant 15 minutes of fame!
Caller Number Nine begins on a Princess telephone and shines under Hollywood lights and the glow of a Waikiki sunset. Yet how can something this exciting lead to so many problems at home and at school? And why is it important anyway, when a family friend is killed in Vietnam and feminism is raising questions that aren't as straightforward as a radio contest?
Caller Number Nine received a QED designation from F+W Media for Quality, Excellence and Design. In other words, my novel will read well on whatever eReader you choose to use!
Where to Buy
Buy from Amazon Kindle | Barnes & Noble Nook | Apple iTunes/iBookstore